LESSONS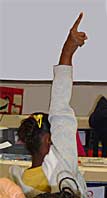 Socrates Lessons
1. Dare To Care
2. Vision and the Scientific Habit of Mind
3. CyberEthics

DARE TO CARE is an early childhood story written by children's author Sylvia Clare Pennywell, illustrated by Limb Designs, with the curriculum written by Mary. L. Radnofsky. The curriculum is available here.
Vision and the Scientific Habit of Mind

This educational project offers local and foreign elementary school teachers and students the opportunity to customize an interdisciplinary museum-based program that effectively integrates the fragmented school schedule, linking diverse disciplines through a central theme and its concepts so as to help children better understand and address complex, real-life problems.

The CyberEthics Project is an educational program to address the problem of juvenile cybercrime. Learn more.