The Socrates Institute provides educational materials and services that make teaching and learning more effective, rewarding, and beneficial to society. Towards that end, we develop and evaluate educational curricula and programs for any kind of learning environment.
---

Using eScrip, simply through shopping at your favorite stores, you can contribute to Socrates.

SPONSORS
Socrates Welcomes Our Sponsors



(Gold Sponsor)
NewTarget (Gold Sponsor)
Virginia State Delegate Brian Moran (Silver Sponsor)

---

September 11, 2011
JUST PUBLISHED!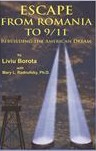 Escape from Romania to 9/11
by Liviu Borota and
Mary Radnofsky

REVIEW OF OHANA ARTS in HAWAII
Drifting on a Living Room Concert, Surrounded by Her Voice
Laurie Rubin is a remarkable young woman who sang a solo program of Broadway and opera hits for Hadassah last night at a Living Room Concert in Kailua. She bears a striking resemblance to Barbra Streisand in physical profile, tonal quality, music choice, stage presence, vocal perfection, and ability to electrify an audience. She is also blind.... (more)
ESL HOMESTAYS IN HAWAII Stay with an American professor while learning English and visiting beautiful Hawaiian paradise!
A MODEST PROPOSAL FOR
21ST CENTURY ARTS EDUCATION
#1 Close All the Schools or
#2 Cancel the Arts Classes or
#3 Expand the Arts Curricula
Read on...
by Mary L. Radnofsky, Ph.D.

Neanderthals on Wall Street
or... "How Much Does it Cost to Run a Country, Anyway?"
by Mary L. Radnofsky, Ph.D.
THE CYBERETHICS PROJECT
Teaching the ethical, secure, and responsible use of the Internet.

"Corporate and
Government Computers Hacked by Juveniles"
by Mary L. Radnofsky, Ph.D.