PRESS ROOM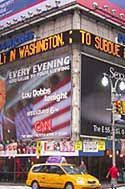 October 31, 2006
"Socrates Institute President Mary Radnofsky Speaks at The World Bank's Interntional Financial Corporation "Security Awareness Day"
Alexandria, VA -- The Socrates Institute's founding president, Dr. Mary Radnofsky, gave the invited speech at this year's Security Awareness Day at the International Financial Corporation (IFC) in Washington, D.C. The IFC is the private sector branch of the World Bank Group. Dr. Radnofsky spoke about computer crime cases involving both traditional phishing and the increasingly serious problem of "Corporate Phishing." While most attendees indicated they are aware of how phishing scams generally work, most were not at all familiar with the less frequent, but much more damaging "Corporate phishing."
---
July 3, 2006
Dr. Mary Radnofsky
"Your Kids Hacking Into Trouble? Online Pranks Can Be Dangerous & Illegal"
Monday, Jul 3, 2006, at 8:00 PM EST, I was guest speaker at an online, real-time discussion entitled, "Your Kids Hacking Into Trouble? Online Pranks Can be Dangerous & Illegal" at www.tappedin.org in the room, "After School Online."
The topic was juvenile hacking, because many kids' hacks that begin "innocently" can create economic and physical damage affecting entire populations. Increasing numbers of juveniles are committing these crimes recklessly and without realizing the results of their actions.
The questions addressed in the discussion were: "So how can we teach them the truth and consequences of their hacking pranks?" and "How can we help them turn their programming talents in other directions?"
For a transcript of the discussion, go here.
To participate in future Tappedin.org discussions, go here.

---
November 7, 2005
Dr. Mary Radnofsky
"Cyberethics, Cybersafety and Cybersecurity"
Description: The topic "Cyberethics, Cybersafety and Cybersecurity" was aimed at informing the educational community about the ethical, legal, safety, and security implications of technology use. This discussion focused on the problem of juvenile cybercrime
---
May 13, 2004
Video Script Highlights Juvenile Cybercrimes

March, 2004
Focus on Faculty: Mary Radnofsky

November 7, 2003
Educator pushes cyber-law curriculum for schools

April 21, 2000
QuinTango's Greatest Rhythms Now Include Alexandria, Virginia

April 5, 2000
QuinTango's Greatest Rhythms From the Americas to Europe

March 23, 2000
Alexandria, VA. Community section of the Gazette. Photo of Jim Moran with murals

March 13, 2000
Congressman Moran meets PHES principal Baldanza & Socrates' Radnofsky

March 8, 2000
Congressman Jim Moran will meet with citizens and view 8x12-foot "Vision" mural

April 15, 1999
Alexandria, VA. Visions and Inventions: Solving Problems Across Cultures

March 30, 1999
Caen, France. Mary the American Advises Schools: Ste. Marie & Bosnières

March 16, 1999
Helsingborg, Sweden. She inspires the Fredriksdal school students

March 6, 1999
Richmond, VA. Tech professor criticizes use of SOLs/ opens education talks

October 17, 1998
Alexndria, VA. French, Swedish, & US teachers attend Socrates workshop

June 15, 1998
Alexandria, VA. Socrates president finalizes Vision plans

June 3, 1998
Caen, France. US-French exchange program launched


Mission | Officers and Board | Staff Biographies