PRESS ROOM
Mission | Officers and Board | Staff Biographies | Press Room

March 13, 2000
Congressman Jim Moran and Patrick Henry School principal Marcia Baldanza meet with Socrates Institute president Dr. Mary Radnofsky in front of the children's mural, Visions of Alexandria: Past, Present, and Future. The 8x12-foot painting is the culmination of an interdisciplinary educational project with SOL-correlated activities that help young people better understand complex, real-life problems through inventions and innovative thinking. The mural, which has been on display at its sponsor's locations at the Bank of America and Landmark Mall is currently at the school. It was designed to celebrate children's understanding of the city's history, their roles and responsibilities today, and their ideas for improving life in the 21st century.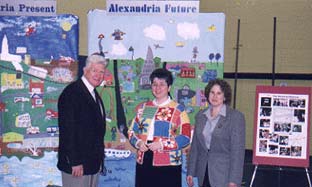 Dozens of citizens spontaneously applauded Congressman Jim Moran during his open office hours at Patrick Henry Elementary School Recreation Center this past Saturday, as he heartily shook hands with an 11-year-old public school child who had participated in painting the mural, Visions of Alexandria: Past, Present & Future. Moran admired the 8x12-foot painted mural of local students' innovative educational inventions, created in a unique academic and arts program offered by The Socrates Institute, a non-profit organization in Alexandria.

Socrates president, Dr. Mary L. Radnofsky, and school principal, Dr. Marcia Baldanza were on hand to greet Congressman Moran, who spent over five hours meeting one-on one with Alexandria citizens interested in discussing local issues.

Dr. Radnofsky remarked that

"This Saturday morning event has been a combined cultural, community and civic experience: Younger and older residents came to meet personally with their elected representative and ended up also chatting with each other about issues as varied as housing and veteran's benefits to transportation and after school programs - all this while viewing a creative and colorful mural of the city painted by students in a wonderful educational project. This is precisely the kind of event we will be presenting throughout the coming year."

The mural, Visions of Alexandria: Past, Present & Future, will be at Patrick Henry Elementary School for the next four weeks, then displayed at the Lyceum for a Socrates-sponsored musical benefit and reception (April 16) honoring a delegation from Caen, France, one of Alexandria's international sister cities. The mural will then travel with local Alexandria-Caen Exchange Committee members on an official visit to Caen this summer, during the Bastille Day celebrations.

Such activities by The Socrates Institute demonstrate its ongoing commitment to education by creating interdisciplinary arts and academic programs at the local as well as international level.

Other Press Releases:
| | | | | |
| --- | --- | --- | --- | --- |
| May 13, 04 | Mar, 04 | Nov 7, 03 | Apr 21, 00 | Apr 5, 00 |
| Mar 23, 00 | Mar 13, 00 | Mar 8, 00 | Apr 15, 99 | Mar 30, 99 |
| Mar 16, 99 | Mar 6, 99 | Oct 17, 98 | Jun 15, 98 | Jun 3, 98 |