PRESS ROOM
Mission | Officers and Board | Staff Biographies | Press Room

April 15, 1999

Visions and Inventions in Alexandria Schools:
Learning to Solve Problems Across Cultures
THE PROJECT
Alexandria, 15 April 1999. Dr. Mary L. Radnofsky, President of The Socrates Institute, and member of the Alexandria-Caen Exchange Committee, has just completed a three-week European tour to Alexandria's sister cities in Sweden and France, to launch the international educational project, Vision and the Scientific Habit of Mind. The project will culminate June 4 and 5, 1999 here at The Socrates Festival at Landmark Mall, celebrating Alexandria's 250th Anniversary with local students' visions through inventions and a mural of the city's past, present and future. Children and teachers from Alexandria's Patrick Henry Elementary School and St. Coletta School, from Caen (our French sister city) and Helsingborg (our Swedish sister city) will simultaneously implement the project, communicate, and celebrate in the festival via Internet and e-mail.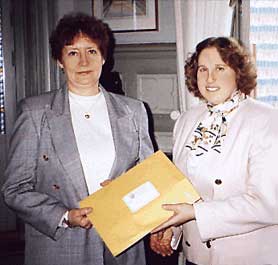 Dr. Radnofsky presents her credentials to Helsingborg's mayor, Mrs. Carin Wredström.

The purpose of this interdisciplinary Vision project is to provide students a common theme around which they can, in their respective countries, see the innovation and logical thinking possible across subjects as seemingly disparate as Math, Art, Science, History, Language, and Music. The idea is for them to see the need, for example, for understanding concepts such as rhythm and harmony not only in music but in literature, public speaking, and art. They must also discover, for example, the importance of accurately measuring not only in mathematics, but in studying the growth of living things over time, and how such growth can affect health, beauty, and other qualities of life.

Dr. Radnofsky describes why working across different subjects is important: "Being able to tie together major concepts helps give meaning to the massive amounts of information children must absorb in order to pass such tests as the SOLs (Standards of Learning). Since research has proven that a person can recall more when the information itself is meaningful to him or her, we should start by helping children tie together concepts that cross math, science, language, art, history, and music so that they will be able to make meaning out of fragmented daily classroom lessons. If we are really to improve their chances of succeeding on standardized tests, we must further provide them meaningful experiences in which to use their thinking and reasoning skills, so that they will be prepared for new theoretical situations which arise."
Other Press Releases:
| | | | | |
| --- | --- | --- | --- | --- |
| May 13, 04 | Mar, 04 | Nov 7, 03 | Apr 21, 00 | Apr 5, 00 |
| Mar 23, 00 | Mar 13, 00 | Mar 8, 00 | Apr 15, 99 | Mar 30, 99 |
| Mar 16, 99 | Mar 6, 99 | Oct 17, 98 | Jun 15, 98 | Jun 3, 98 |