PRESS ROOM
Mission | Officers and Board | Staff Biographies | Press Room

March 16, 1999
"She's Going To Inspire The Students Of Fredriksdal School"
Reality is made of different parts but together they make a whole. Mary Radnofsky, the university professor from the United States, will take the students to ask why things are as they are and how they can improve.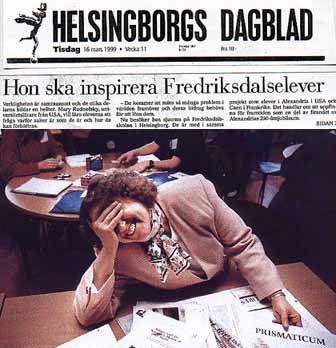 "They will meet so many problems in the world, in the future, and they will need to find the answers to solve them."

Now she is visiting Fredriksdal school in Helsingborg. Students also participating in the project are from Alexandria, in the United States and Caen in France. It's about making things for the future, as part of the celebration of Alexandria's 250th anniversary.
"Why was the telephone invented? What was the problem that was solved?" Then Mary goes from group to group. She talks with the students. She talks intensively and engagingly, and the students are fascinated. In English.

"I love Swedish kids," she says. "It's fantastic that they know another language as well. I think you see one or two American TV shows, but now you see we are not only as we appear on TV."

Mary Radnofsky is a university professor and founder of The Socrates Institute. She wants to spread a way to look at teaching while putting things together, removing the boundaries between different subjects. How and why are important questions.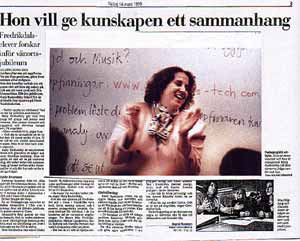 Socrates...
The students come from three different subjects at Fredriksdal school. They are all together in this project, and have chosen to be there. They are with students in Alexandria, USA and Caen, France.

Helsingborg is Alexandria USA's sister city, and will help celebrate its 250th anniversary, as will Caen in France.

Alexandria celebrates by showing its history. The other towns are with it. Helsingborg's community will have an exhibition about life in Helsingborg 250 years ago. But Alexandria will also look forward. The students will show their own designs and improvements, something that will make it easier in the future.

"To make the world a better place," says Mary Radnofsky. For the students at Fredriksdal school as well as in Caen, France. They are in the same pedagogical project, working through Internet, so they will know about the others' inventions, too. The three teachers from Fredriksdal school are Helene Lundstrom, Malin Sjoberg, and Camilla Persson.

"This is a way to help the students see how they can make practical use of the knowledge and understanding of what they read in school and it makes them be creative."

All over the world
Mary Radnofsky talks about opening schools to society and to the world outside, and to make the students not only have good grades, or get a well-paying job, not only that.

"They're going to meet so many problems in the future, global problems that must be solved, and therefore their understanding is very important."

Now the students will go on and do their own inventions. Six groups with six different subjects --- food for the future, computers, energy, environment, games and clothing --- the same groups in the three countries.

"This is very fun and good," thinks Klaudia Amin; you learn much more, "and it's in English," says Christopher Eek. We hope that one or two students will be able to go over to Alexandria.
Other Press Releases:
| | | | | |
| --- | --- | --- | --- | --- |
| May 13, 04 | Mar, 04 | Nov 7, 03 | Apr 21, 00 | Apr 5, 00 |
| Mar 23, 00 | Mar 13, 00 | Mar 8, 00 | Apr 15, 99 | Mar 30, 99 |
| Mar 16, 99 | Mar 6, 99 | Oct 17, 98 | Jun 15, 98 | Jun 3, 98 |